Kaiboi Technical Training Institute is 50Kms from Eldoret Town.. It is located in Nandi North, Rift Valley Province. It is 22 Kms from the Eldoret – Kapsabet main Highway from Mosoriot Town. Kaiboi is furnished with Hi-tech engineering training equipment that out compete most of those found in National Polytechnic.
We are mandated and fully accredited by the Technical Vocational Education and Training Authority (TVETA), Ministry of Education to provide training in Technical, Vocational Education and Training (TVET) in various courses at Diploma and Craft levels.
Tell a friend to tell a friend: We are all about giving back and making a positive impact to our communities, come and be part of a career training that you will potentially refer to for a long time.
#kaiboitti
#Careers https://t.co/dgowKLPLhS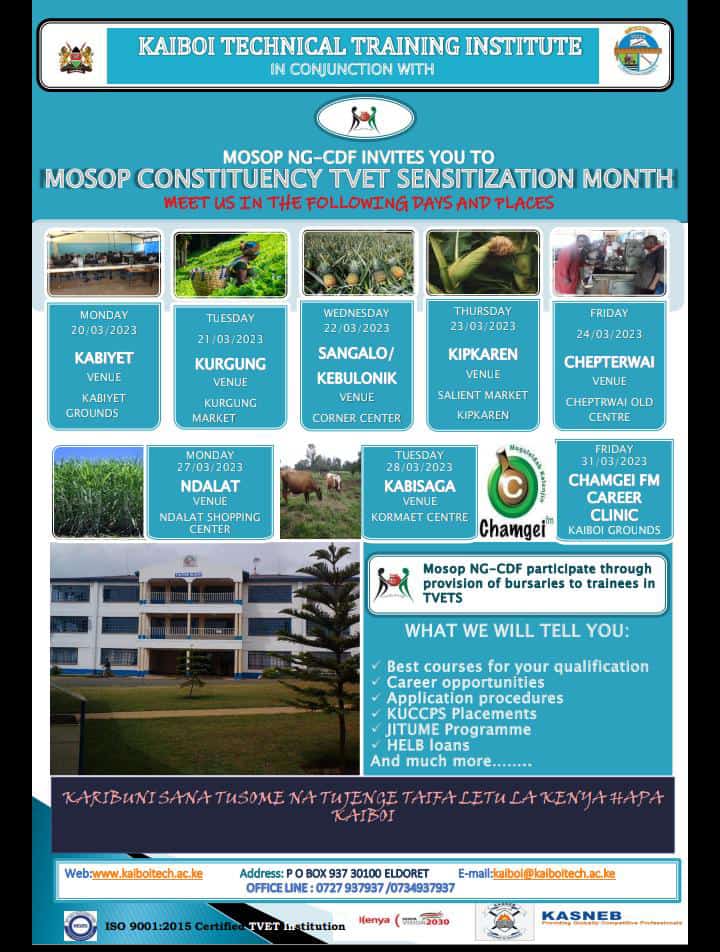 CHOOSE THE KTTI EXPERIENCE
We are an academic residential college made up of students, scholars, old collegians and staff members. Our rich history is the foundation.
We are diverse, welcoming, accepting and passionate about being the best we can be. Join us to make your college experience unforgettable.
{"slide_show":"2","slide_scroll":1,"dots":"true","arrows":"true","autoplay":"true","autoplay_interval":"6000","speed":600,"loop":"true","design":"design-1"}
" I definitely would recommend Kaiboi TTI and would encourage students to study hard and inform themselves as much as possible about the several academic opportunities the Institution offers."
_Ronald Cheruiyot,
Civil Engineering
" KTTI is my second home. I have built great relationships with my classmates, teachers, and staff. Being at KTTI has been an amazing experience for me that has helped me grow personally and professionally. "
_Jimash Jim,
Accounting
" I'm a proud student of KTTI, the college that helps you stand stronger for what's coming in the future. What they teach you here is not just knowledge, it's experiences. "
_Rose Roshni Jelagat,
Information Technology
Monday, Friday 8:00 – 17:00
Saturday 9:00 – 13:00
Sunday Closed
Holidays  Closed
@KaiboiTraining
What do you like about Kaiboi Technical Training Institute and which course do you prefer to study? Note that Septe…
https://t.co/z743wOFy1C